June 26, 2018: MORE CRAZINESS
Sooo the daycare has moved into the makeshift preschool the camp room in the chapel. They had to move all the right toys and make sure it was all in the right order. The camp kids have officially moved to the other building on Fryer for 2 weeks. There is stuff packed in the locker rooms, pavilion, and now the mechanical room. We have no clue where anything is BUT we see an end in sight!!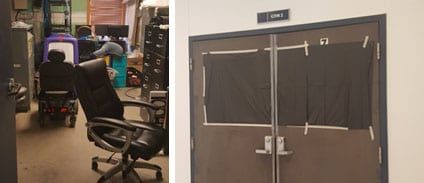 Now, this picture here…may not look like much to the unknowing eye…but it caused me to be pretty misty-eyed! More than I would like to admit! This is our "baptistry" I couldn't help walk around it and think, "who's gonna be first" Is it you? Then my mind wandered to many moons ago when we prayer walked that very spot. I can close my eyes and remember that very moment standing under the steel frame in the weeds and rocks feeling the gentle breeze blowing on us. I remember burying a pile of rocks with our friends and family names on them and laying a Never-the-less rock right on top.

---