May 23, 2018: WORK NIGHT
Can't even begin to describe this day. It was long and tedious and a mad dash! This beast of a machine showed up. We had no clue what to expect. Randy hopped on it and started tearing up floors. He only got off 2ce to be able to charge the battery. 10 hours later he actually finished all the floors and we were able to return the machine and save a whole day's fee…BUT ONLY BECAUSE OF A GREAT GROUP OF HELPERS..from ages 5 to 95! So many people with such great attitudes and worked hard!
We had a work night planned, but Randy was cruising, and we were having trouble clearing the rooms out fast enough to keep him chewing up tiles. We called around and people started pouring in. We cleared out all the halls and rooms, packed all the stuff in the locker rooms, Randy chewed up all the tiles, then we swept and hauled out the pounds of tiles, cleaned out rooms and put chairs and desks/tables back in so we could have church on Sunday. It was crazy but what a great group of people, kids, and teens helping!
*Special thanks to the Bingham boys for unhooking all the computers, moving them, re-hooking them and making sure they all worked again! Can't even imagine what we would have done…can't even imagine!
**Special, SPECIAL thanks to poor, poor Mr. George. We apparently moved (to the recesses of the girl's locker room) the filing cabinet that holds all of the deposit stuff that he needs on Mondays to make the weekly deposit…things like the stamp for the back of the checks, calculator, deposit slips and books etc. Back to the stone ages and hand signing all the checks. = /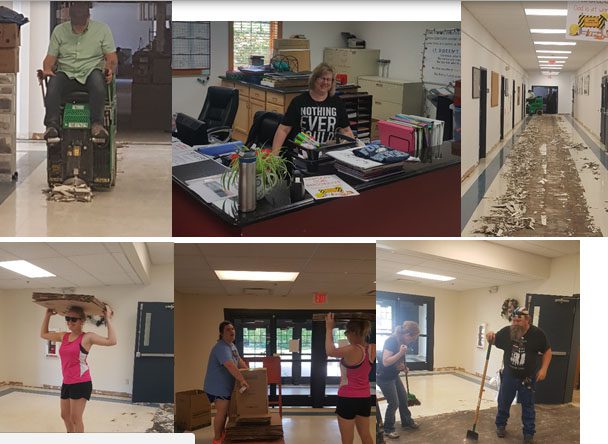 ---