May 18, 2018:
THE FLOOD
So I was sitting in the conference room this morning. I hear a collaborative squealing of voices the kind that makes you stop everything you are doing and just listen to see what's coming next… then I hear a huge rush of water followed by Mike Blan saying, "oooooooo mannnnn"…then there's laughing…Randy laughing…not just any laughing but the kind that comes from deep within. The door opened, and Mike is soaked and Randy and another nameless man (Tom) are still laughing. Apparently, there was some unexpected water in a pipe they cut. I was VERY IMPRESSED WITH the ingenuity of how they drained the pipe tho… mostly Mike soaked it up but then…Look closely at the pictures!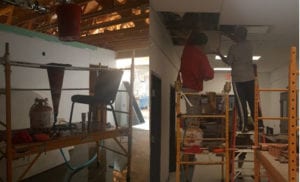 ANOTHER PRAISE: 3 men and 2 women are leaving tonight for MI for training in Celebrate Recovery. "Celebrate Recovery is a Christ-centered, 12 step recovery program for anyone struggling with hurt, pain or addiction of any kind. Celebrate Recovery is a safe place to find community and freedom from the issues that are controlling our life."
This is a program we have been wanting to start for many years. This week our electrical guy working with us got talking to Randy and he and his wife lead it in their church. He was also telling Randy that there is a division of this organization just for bikers. He told Randy the name of the guy that leads that part of Celebrate Recovery and it turns out Pastor Joe just met this man last Sunday at a Bikers Rally thing he went to. How about that??? We also found out that there is a division for Veterans also! Be watching for updates. This is a big ministry opportunity for our church.
---