September 4, 2018:
CREATIVE JUICES FLOWING
So there is a ramp on the sages going into the back rooms. The village requires a handrail so the boys decided to build in benches to hide the handrails. They look pretty cool!
Mrs. Faith took her Wednesday Bible Study women a tour through the building. Many were amazed! We can't wait to get in there and just clean and dust it…and there's a lot of it!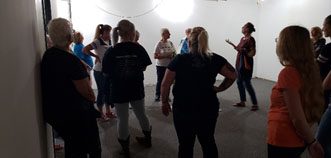 ---