---
Teens | 7th – 12th Grade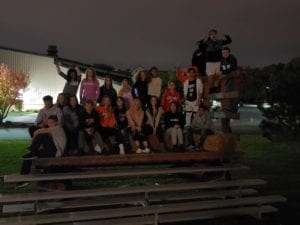 Our Student Ministry is more than a Wednesday night hangout. It's a ministry with the goal of seeing students become more like Jesus. Our commitment to Small Groups and our partnership with parents are key in equipping students to live like Jesus.
If you are a student 7th-12th grade, we have a place for you to belong! Our Wednesday evening group meets from 6:15 pm – 7:30 in Room 106 and includes student-organized worship, recreational activities and discussion time.
Topics focus on seeking answers through God's Word and applying it to personal experience, as we deal with issues that young people encounter on a daily basis. We challenge young people to be devoted to deepening their relationship with Christ while preparing for their future in Christ's church.
Click HERE to check out the latest updates on the youth group's facebook page,
Our Teen Group also meets on Sunday mornings during the 9:15 Sunday School class time.
Teen Worship Services:
Sunday School | 9:00 am |

7th – 8th grade | Room 112
9th – 12th grade | Room 114

Sunday Mornings 10:15 am |

Find out More >>

Wednesday Nights | 6:15 pm | Gym
---
Dedicating and

Baptism
We believe children born to believing parents are a special gift from God and set apart for Him. If your child is ready to be baptized or discuss salvation or you'd like to dedicate your child, please contact the church office. Learn more about the Baptism of the Holy Spirit and Water Baptism.
Questions?
Please e-mail us or call the church office at 815.521.1381.
Safety
We take the safety of children very seriously. Parents are placing their most valuable possession in our care. It is our responsibility to return each child safely to their parent at the end of each service.
All of our volunteers and teachers have gone through an application process and interview. For added safety and security, we run background checks on all teachers and volunteers.