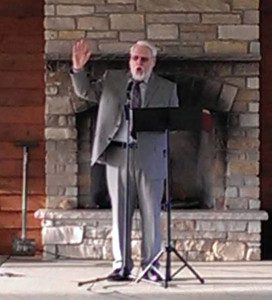 Pastor Clark was born in Chicago, Illinois Feb 2, 1946. His parents were told he would only live a few days. That kept getting extended until in 9th grade he was pronounced free of problems.
He was on the High School Debate team and in his senior year, he and his partner won the Pennsylvania championship and finished 13th in the country in the National Tournament.
He followed his father into engineering and graduated from The Ohio State University (go Buckeyes!) and worked for 7 years as a process engineer in the Chicago area.
During his service in the US Navy, he met Christ at the Port O'Call Baptist Mission in Oakland, California. God called Clark out of engineering into mission work by way of Southern Seminary in Louisville, Kentucky. He said of that decision, "I was an engineer like my dad but now I am about my Father's Business."
As a Church Planter, Clark was the founding pastor of churches in 3 communities and he trained 7 pastors for mission work. One of those young pastors he mentored is now his pastor, Pastor Randy. Clark worked with church planters all over Illinois by hosting Church Planter Networks and he worked with Pastor Randy in Church Planter Assessments.
For 20 years, he financed his church work by substitute teaching. He taught everything from Kindergarten to Calculus; Home Economics to Machine Shop and even a brief stint with Behavior Disordered students.
Clark says "The two greatest things that happened to me happened in the Navy. I met Jesus and I met my life partner, Martha. We were married after I was discharged and she helped me finish college, begin a family and support my ministry by working as a Ward Secretary in the hospital."
Clark and his wife Martha were married for 47 years before her passing. They had 2 sons and have 5 grandchildren. Clark loves camping, visiting missions when on vacation, leading Bible Studies and Mentoring. He lives in Channahon.
Clark's favorite Bible verse: Proverbs 15.1 A soft answer turneth away wrath but grievous words stir up anger.
Clark's favorite Bible character: Barnabus, the Son of Encouragement
Clark's spiritual gifts are: Mercy, Pastor/Teacher, and Exhortation