MARCH 29, 2019: WOW!
Sound training was this morning. Had a great team to come learn. Tonight, we had our first worship practice. I was blown away at how great it sounded. It was amazing. Now I'm really excited!

---
MARCH 28, 2019: BACK HALL/COFFEE SHOP
Floors are clean, walls are painted, and halls are about done.

---
MARCH 27, 2019: ROLLING ALONG…
Today Dave A, Jacquie, and Joanne are rolling the coffee shop and children's wing. Trying to get coffee shop done so we can get the booths and tables out of the hall and installed. It is beyond exciting to see the finishing…yes, FINISHING details happening!
---
MARCH 26, 2019: 99.9%
Today Randy got a text from Tom that said "Electric is 99.9% finished. The sound will be complete by Saturday night. Which only leaves me with the HVAC and timeout. It's almost over. Praise God! I am in awe." Just typing this out makes me well up in tears. There has been no one more faithful, diligent, perseverant than this man. Broken knuckles. Many challenges. Cold. Heat. So much wire. He worked by himself hours that only God knows. He knows every intricate part of this building. What you and I take for granted, he conceived. When you walk around and flip light switches or walk upstairs and its pitch black and the lights come on automatically…Only God and Tom know what it took to 'let there be light'!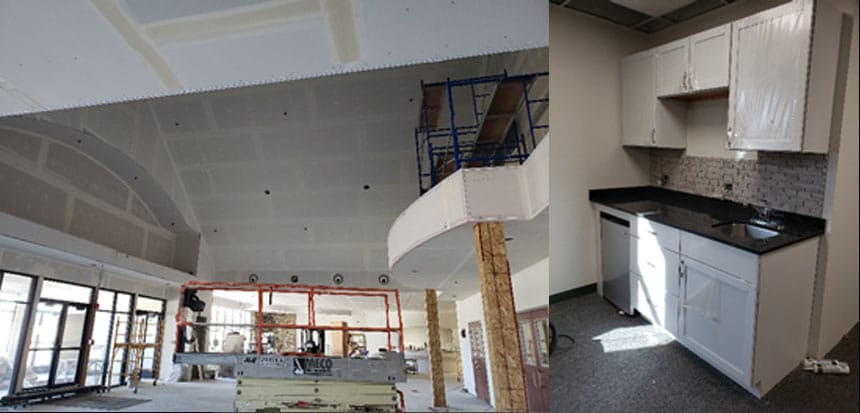 MORE GOOD NEWS
Another text from Tom…"Ken (our engineer) came in tonight. We have the first air handler unit online working with controls. He will be back Tuesday to get the 2nd one online. Truly almost done."
The mud is going on so fast. Scooter has tiles behind the sinks in the office and coffee shop.
---
March 22, 2019: BLESSED:
Today left me in awe. The trouble we had with drywallers…well its an amusing story but these guys "fell in our laps" just when we needed them and had the money! They are amazing and quick! They are whipping it out and we changed hourly!
Then there's Dave. He decided to bless Randy and revarnish the desk Randy found. Looking good Dave!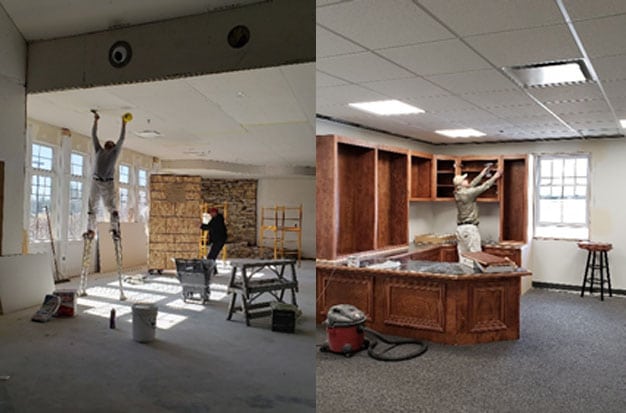 ---
March 20, 2019: THIS MADE ME WONDER…
The drywall was going up so fast while another crew is mudding just as fast! The conference room is completely done.

And there's this. I walked into the sanctuary to find…well…this. A group of men with their heads in the floor. Then I got closer and I found Tom IN the floor on his phone watching a video on youtube. Hmmmm  I watched for a while, shook my head and walked away. Whatever it was I was assured they had it handled! BUT there IS water in the baptistery! Who's first???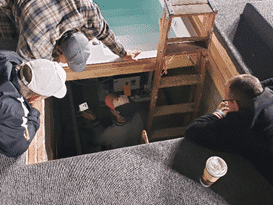 ---
MARCH 17, 2019: SPOTLIGHTS ON!
Today is the day. Let there be light. Today the lighting guys are coming to teach and train us how to use all that fancy equipment. As complicated as this will be it will be nothing compared to the training for the soundboard.
1:30 pm today the village made there LAST inspection – except their final walkthrough! YES, we are, as Tom would say and has said for many months, ALMOST DONE!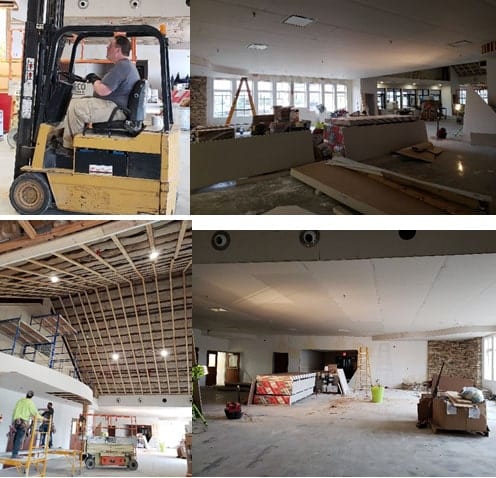 ---
MARCH 12, 2019: A FIRST
I was blown away to walk in the coffee shop and see: 1st the fact the room was actually clean but 2ndwow!  The coffee shop had a fire roaring, chairs set up and I can't even explain the peace that filled that room. Those of us meeting in there just relaxed and sat in awe. We can build and clean a room but only God can envelop it. May the train of His robe fill this temple with His glory!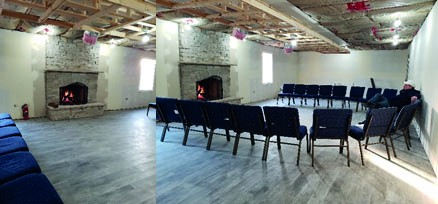 ---
MARCH 11, 2019: FINISHING UP!
Today they are putting up the final ceiling tiles in some of the rooms and they are cranking it out!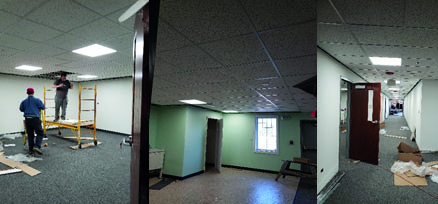 AND we are so excited to have drywallers…after all we have been through with drywallers…we have drywallers. Can I hear an AMEN!!! They are cranking it out also. Today they finished preschool wing and the coffee shop. I can NOT wait to see the foyer done!!!
We passed our insulation inspection except there is 1 more section that needs insulation so we are finishing that up and will call for another inspection. ASAP!

---
MARCH 7, 2019: WHAT A PRIVILEGE
What a privilege it was to tour this sweet saint through the new phase. Dub and Ruby Doyle have been longtime supporters and members of this church and us personally. I'm sure Dub is seated next to Billy Graham and John Wesley right now! I remember one business meeting when we were discussing some changes that we really felt needed to be made to Dub proclaimed in a business meeting "I don't care about what happens as long as people keep getting saved."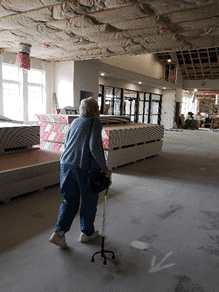 ---
MARCH 5, 2019: MORE?
More drywall…seems unending!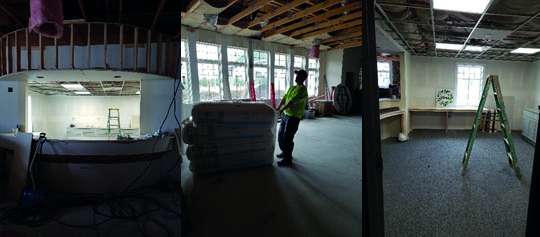 ---
February 14, 2019: SO MUCH HAPPENING
Picture 1 – that big roll is the artificial carpet that goes under the batting cage…batter up!
The hallways look like…hallways! And I got to flip the switches for the first time down the hall. Good going, Tom!
That outlet is in the coffee shop. They have USB spots to charge our phone! Woot Woot
The Woodchucks…well you will have to ask one of the guys. That pic is solely for them!
And the drinking fountains are installed and ready!
More insulation and ceiling tracks are cruising right along!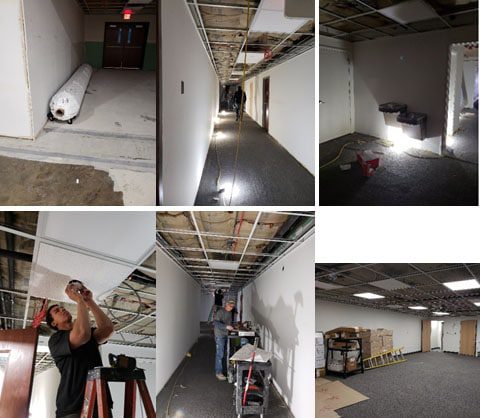 This is the baptistry and all the plumbing is done for it…including the heater for those who are considering taking a swim…but seriously we have been praying over this baptistry, wondering who the first one in will be! Is it you??
The other pics are taking from upstairs in the sound booth. The lighting, sound, and the view is amazing up there. It is a work of art! Ready to go!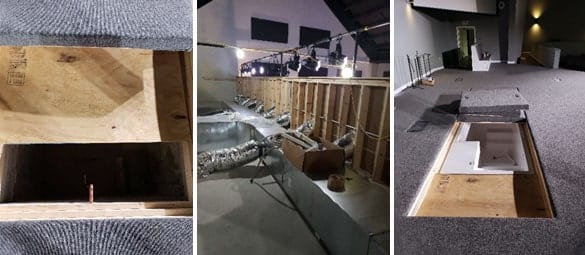 ---
February 10, 2019: ITCHY WORK
I went to throw away a donut box sitting randomly in one of the classrooms. When I picked it up, it was really heavy… I opened the box to find they were stashing tools…yes, tools…in the box. I have a lot of questions about what I found that I am sure will remain unanswered.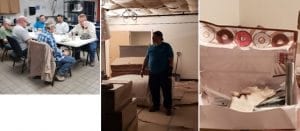 ---
February 9, 2019: WORKING TOGETHER WORK DAY
February 8, 2019: GOOD TO BE BACK TO WORK

---
February 6, 2019: WED NIGHT WORKERS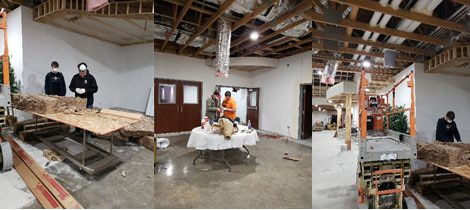 ---
February 5, 2019: IN BETWEEN THE SHENANIGANS
We really are rocking and rolling and itching! SOOOOO much insulation!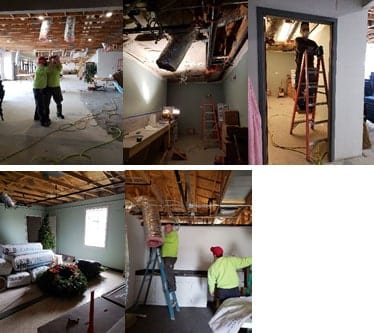 ---
February 1, 2019: FEBRUARY…
It is the time we long awaited for. It's been hard to fight for our cause with a company and waiting on inspections all knowing that our God is big enough to handle them both. AND we have learned first hand that God has had a plan for every single delay we have had. And funny thing, each one of them has worked on our character more than anything else. Always a reminder that it's NOT about a physical building but building of character and building the kingdom!!
Fire suppression inspection passed and now the water heads are in all classrooms
2 water fountains were installed
All bathrooms are done-sinks and counters are all done and running. Toilets are already being used…the workers were so happy about that!
Lights in the hall went in AND they cleaned out the halls…WOW, it looks like a real…HALL!
Insulation is going in all children's wing classes
Ceiling grids are going in so fast it is blowing me away
Old gym-had our first games in there. Can't even explain how… kinda speechless. May have to ask someone who was there. To see that room void of chairs and stage and Pre-k room and music stuff and pulpit…to see kids laughing and playing and shooting hoops was amazing. The room looked so big. It's indescribable. And just FYI. We had our first tournament in there and the first game the Eagles played in there was an elementary boys team…and they won. The girl's varsity also played in there that weekend… and won. Just sayn'


---
January 30, 2019: A CEILING IN THE SANCTUARY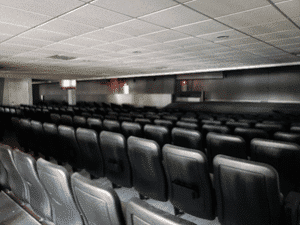 ---
January 15, 2019: IT'S A GYM!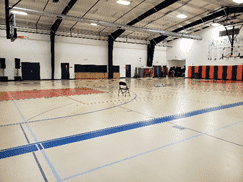 ---
January 4, 2019: DAYCARE/CHILDREN'S WING COUNTERS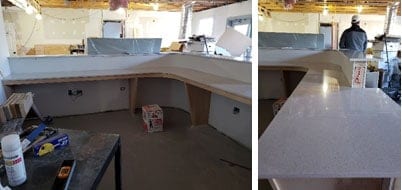 ---
January 1, 2019: A NEW YEAR!
It has been a frustrating ride waiting on the fire suppression company and the inspections for it, but we keep praying and keep working on the little things!
TVs installed in the sanctuary
Ceiling finished in the sanctuary
Exit lights were all put in the sanctuary
Counters in daycare are finished
The coffee shop has counters, the refrigerator is in, flooring is done, and a sink but still waiting on a faucet. The outlets in coffeeshop are done and put in with USB ports to charge your phones…super cool.
The counter is in the pastor's office for his coffee pot, which we all know is a critical part of his ministry
The counter in women's classroom with a sink. We are getting so ready to move in. We can't cram in any more ladies in our present ss classroom.
 In the present chapel where we worship, we tore the stage out. The basketball hoops and scoreboards got installed that have been in boxes for quite a while. It was so excited g to see it looking like a real gym with such high expectations of what a new sanctuary will look like.


---
December 18, 2018: LET THERE BE LIGHT
The lights are on in the third phase foyer. So close to being done!
---
December 17, 2018: TOP IT OFF
The back counter was installed in office, the cabinets are all installed in the coffee shop and the new cooler is ready to go in. The new women's Bible study room also received a counter for their little kitchenette also.
---
December 12, 2018: FEELING BLESSED
Counters were installed in the front office and look amazing! Those rounded counters were a challenge and a half and they did great. Scooter also added some little carpentry touches in the office that matches the pillars in the foyer. It looks really cool! Free counters. WOW. Truly blessed!
---
December 8, 2018: GETTING READY
The foyer has been completely cleaned out and looking amazing. The floor guys re-sanding, sweeping, sealing and leveling the floors getting it ready to finish.
---
December 6, 2018: 1 HAND BETTER THAN NONE
The new floor has gone in the coffee shop. Scooter and 1-handed Dave made a great team!
---
December 3, 2018: MEASURE AWAY!
Countertops have been measured and gone in the bathrooms. Can we mention here the huge blessing… thanks to Annette and Rick who spoke with their countertop guy and had the boldness to ask…the counters were all FREE…yes free and they are amazing! They are not cheap counters but look like gorgeous marble! What a HUGE blessing! WOW!
---
December 1, 2018: THE WAITING GAME
So the month of November and now December will be remembered as the months of waiting. The fire suppression company, which was the hold up for so long, finished the physical labor mid Oct. We have been waiting on them to now call to get their system approved and inspected…for over 2 months we have been waiting (today is 12.12.18). We can't put in the insulation or ceiling until that is done.
Delays. There is little we can do with them. Pray…and harass the company that is delaying us. But honestly, we all know God is bigger than that company and the inspectors we wait on…even when it doesn't seem fair.
FLASHBACK…
God (in the form of the village) delayed us one time earlier in this process. We were very angry. The delay was ridiculous! The cold weather was coming, and we wanted to put the shell of our building up.
We had already bought the wood package although it hadn't been delivered yet. With the delay, we had to "return it" because we weren't ready for it. Delays. Did I mention we were very angry (because that's the Godly response)!
When the permits to build finally came through, we went immediately to purchase the wood package again…and that's when we were humbled…and slightly humiliated! That wood package came in $500,000 LESS than it was just a month before. That was a huge amount of money to us and a huge push in the building process. In the grand scheme really what was a couple extra weeks? But $500K goes a long way when building. Don't know if God caused that delay or He used all things together for our good (Romans 8.28) and we sure didn't care…but we did repent and learn a valuable lesson that truly will stay with us the rest of our days!
We were humbled being reminded of our crummy attitudes and even now we're reminded that this had always been on God's timetable and that's where it will remain! We will continue to daily call and fight for our cause because that is right… but we will stay humble and on our knees asking for wisdom and acknowledging that God IS bigger than a fire suppression company.
And on a personal note…during this delay was when we personally sold our house, bought another, remodeled it and moved in…and Joe and Ronda's house where the men live had a huge mishap during this time and a lot of work had to be done there for the guys to move back in. As I was praying about this chaos, I found myself in God's Word and He gave me such a sweet scripture from Solomon…II Chronicles 7.11 Solomon not only was working on the temple but his own palace too and God allowed him to do all that was in his heart for both places. Then the Lord came down and chose that temple for Himself
---
November  2, 2018: FINALLY…CLEANING DAY!
The first cleaning of the dust…no dust bunnies here. More like a dust city! Young and old alike came to help. But don't worry we will have to do it again so you can join us this time. Wouldn't want you to feel left out! Lots to go around!
---
November 1, 2018: PLUGGING AWAY
We have had a lot of little stuff done and even still some big accomplishments despite the waiting game…
Tom D is still plugging away at the electric. I see Exit Signs going in.
The heat got turned on AND WORKS!!!! Can I hear an amen!?!?!?!?! Do me a favor and read that line again… The heat got turned on AND WORKS!!!! Can I hear an amen? This is worth a pause and a giant HALLELUJAH!! This was our biggest project, the biggest stress, biggest headache, and biggest fear! The prayer team is praying in the warm sanctuary every Sunday at 8:45! Come join us. No excuses now!
The TVs in sanctuary got installed so those seated in the back will be able to see up close and personal.
The ceilings have gone in the chapel area above the seats…well, then they came out again…but they will be in again by the end of the month. It happens.
---
October 11, 2018: MORE MORE MORE!
The counter for the sinks is in, more stalls, more ceiling tiles, and ore carpet in the office!
---
October 10, 2018: OH THE NEVERENDING GARBAGE!
The counter is in the front church office and the back desk by the children's wing. The stalls are in the bathrooms as the toilets and urinals are going in! And the dumpster is filling up again.
---
October 9, 2018: MORE PROGRESS
Moving right along. Ceiling tiles going in, molding going in the chapel. The office got cabinets. The gym got the back wall padding up and one of the baskets was put up.
---
October 5, 2018: HUGE MILESTONES
 So Dave has been locked in the hoarder room for many weeks…not sure what he was doing per se BUT he put in the last piece of pipe today…AND IT DOESN'T LEAK!!!! This is for the air conditioning.
Also a huge thanks to Gordon and Paula who took off a week of work to come clean out the hoarder room and get it all moved! And a huger thanks to the FOFCA boys HS Bible class who, as best as I can guess, saved Paula and me approximately 98 trips of stairs! They deserved way more than a candy bar but they did it with great attitudes and a heart to serve. Our knees and backs thank them!
Also, our painting guys are getting the sanctuary done. The half walls look soooo beautiful and the benches on the stage are primed. IN ADDITION, the guys from Upcycle are DONE with the grids in the ceiling above the loft, the heating ducts are all in and ready for ceiling tiles.
The fire Marshall making change the fire alarm system in the current building 25,000. Sanctuary should be done next week. Fire suppression system will be done next week, free to start insulation. Toilets and urinals all in Running water. All bathrooms are tiled and working on grout. All door handles on in the sanctuary…may not sound significant but there are 10 doors in the sanctuary
---
October 8,  2018: ALL THINGS WORK TOGETHER
All things work together for those who burn the cookies. It was a fun lunch day at school and our oven is…ridiculously horrible. The oven doesn't heat right and takes forever then it burns everything… the whole kitchen smelled like burnt cookies…for good reason. The guys came to lunch as they always do and before I knew it they were putting in the new stove! Thanks, boys. The only regret is that the men's ministry got to cook on it before we did!
---
October 3, 2018: WHAT GOOD IS IT?
Hoops are going up finally. The fresh air vents went in the front of the building.
---
September 23, 2018: 
AT THE CROSS
Drywall going in the foyer and the cross is getting caulked and ready for paint.
---
September 21: 
OH LADIES…
The doors are going in. More wires being pulled in the foyer for lights. The girl's bible study room now is cleaned out, has carpet, AND a window! Hot dog! I'm excited….OH WAIT THAT'S NOT ALL…and because that room was supposed to be a mechanical room it was plumbed in for a sink…NOW we have a sink and cabinets too! Yeehaa!
---
September 19, 2018: 
WHO WILL BE THE FIRST?
Fire suppression guy STILL here, sanctuary looking great, windows getting painted is a tedious job! AND the baptistry has arrived! I can't help but wonder who will be first and I can't wait to find out.
---
September 17, 2018: 
MAKE ME WANNA CRY
So this was the week to finish the sanctuary. Do you know how exciting that sounded last week?? All the labor was done except the intricate painting of the new half walls and cross and then we were to be done! We hired a professional painter to finish out the most important parts. I was so excited to go in and see the progress and all I wanted to do…was cry. He hadn't started painting yet. He was MUDDING all the holes and nicks in the walls. The walls were COVERED in mud. So I admit that is a good thing but there was mud ALL over the walls that have ALREADY BEEN painted! (So this is MY blog I should be able to vent on occasion) I just wanted to stand there on the stage and cry!
It took me a few hours to compose myself when I really had to come to the conclusion that it IS a good thing that he wants to do it right and when it's done it will be amazing, BUT I just really want to see something DONE!!! When I was in a Godly frame of mind again-which was NOT easy- and after I inspected his mudding job-cuz remember he is a PAINTER, not a DRYWALL guy. I had a little chat with him and asked how long to paint. He promised me by Thursday all would be repainted, and he would be starting on the walls and cross. I made him promise or he would see me cry. So today is Wed and I have to go buy more paint. Sigh.
---
September 15, 2008: SOOO MUCH DONE
Doors are all going on. The floors in the back foyer are gorgeous. The pillars in the sanctuary are amazing. The tiles are going in the bathrooms.
And I would also like to state on Thursday of last week our grandparents started coming at 12 noon and the bleacher guys finished at about…12 noon. We had a great crew to sweep and mop up after them in time for our program. Thank the Lord. Also that day we had another floor guy come to look at the new gym floor. Looks like we may be doing it a 3rd time. So sad!

---
September 14, 2018: 
LOOKIN' GOOD
Putting in the panels in the walls and they look amazing. The boys are cutting wood outside with the fan blowing it where they want it to go and they are prepping the main foyer in the back for the floors!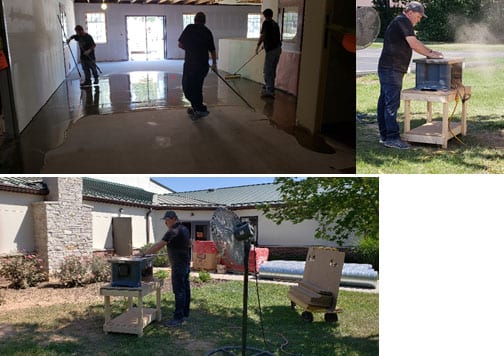 ---
September 11, 2018: 
REALLY? THIS WEEK?
Many, MANY weeks ago we had to get on the calendar of the bleacher guys. The beginning of school is the busy time for them. Little did we know they we open this week and were her to put the bleachers in. Its grandparent's week…but hey why not??? We are getting good at living in chaos. Last time it took weeks to get them done. Let's see how long it takes this time. In 2 days, we will be packed out with parents and grandparents. Here we go…

I am super stoked to run into Rich fielding this morning. He has a little slow time right now and showed up with a couple guys to start putting in the suspended ceiling in the sanctuary just under the balcony. I AM SO EXCITED! The carpet guy has been awesome and he is finishing up his job and the boys are moving the saws outside to keep the mess out there! I like how they think!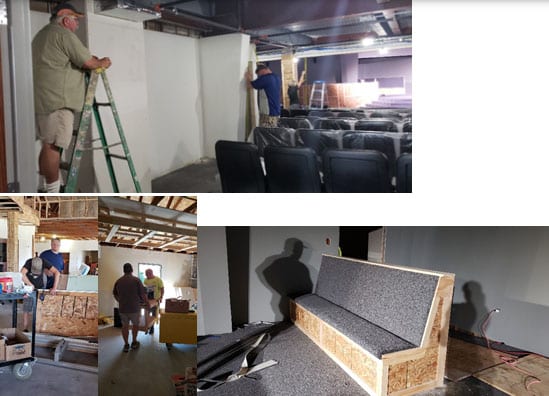 ---
September 10, 2048: 
AT THE CROSS
Each Sunday a remnant come together and have been praying on the stairs in the front of our sanctuary. So awesome to be praying this week down front at the foot of the new massive cross.
The back floors and visitor center have gotten varnished. The seats and kneeling bench got covered and look sharp. They are working on putting the inserts in the walls, benches, seats, and pillars so they all match the foyer. I think it's gonna look really sharp!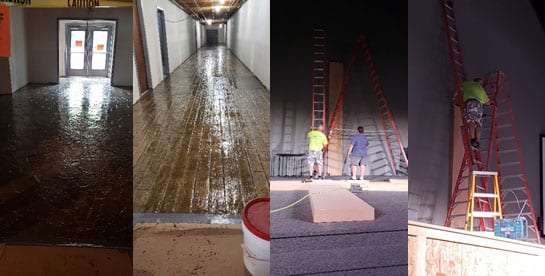 ---
September 7, 2018: 
WILL WORK FOR FOOD
Moving right along.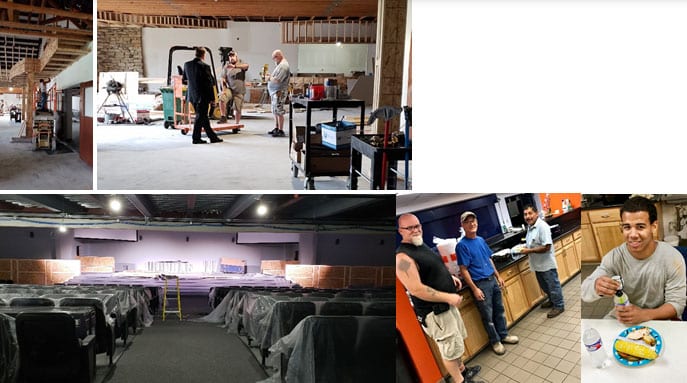 ---
September 4, 2018: 
CREATIVE JUICES FLOWING
So there is a ramp on the sages going into the back rooms. The village requires a handrail so the boys decided to build in benches to hide the handrails. They look pretty cool!
Mrs. Faith took her Wednesday Bible Study women a tour through the building. Many were amazed!  We can't wait to get in there and just clean and dust it…and there's a lot of it!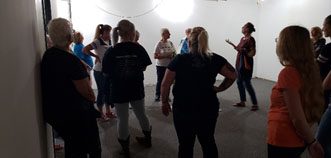 ---
September 3, 2018: 
GOT AN ARK?
Thankfully we didn't need an ark but it was a downpour. LOL!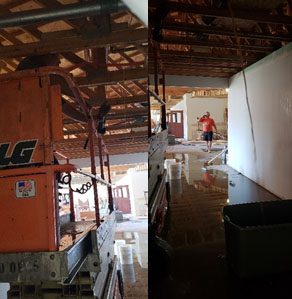 ---
September 2, 2018: 
WHAT GOOD IS IT?
 So very excited today to see walls going up in the sanctuary. We truly are down to the last steps. And the bathrooms are looking great with the new tiles going in…the only problem is though…what good is a bathroom without a toilet??? We are still short $70 and toilets are a part of that amount!

---
August 30, 2018: 
DOWNHILL
Carpet going in the back offices/classrooms, the sanctuary halls, and children's wing. We are on the downhill side! Keep praying!

The spotlights are in and blinding! They light up the whole room! We have officially taken down the last of the string lights!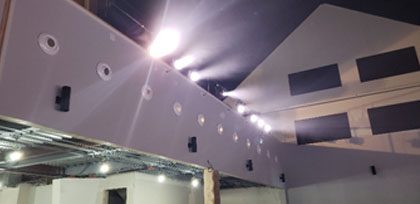 Beyond excited to see plywood on our walls in the storage room! We still have storage units full of stuff I would love to get back over here! We are in need of a jail, a brick house, a straw house, a boat, and a wolf costume! Just saying!

---
August 17, 2018: 
LET THE LIGHT SHINE
What a day. This almost made me cry. I was standing in the back of the sanctuary when they turned out all the lights…well UNPLUGGED all the strung light bulbs that is… then it happened. They flipped the light switch. WOW. I have never appreciated a light switch like I did today. It… I'm speechless. I don't even know how to describe the feeling when the lights went on for the first time. It took my breath away… and so beautiful!
Those big black things went up today also. They are acoustic panels. The carpet is on the stage too.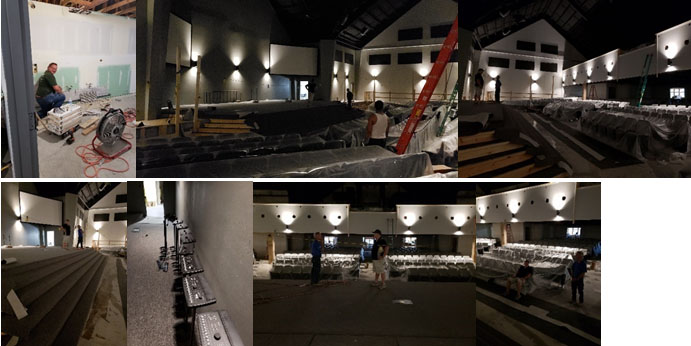 ---
August 21, 2018: 
OH GOSH
Seriously? More ducting? It never ends… and the gym floor is almost done YET AGAIN. Hopefully, it will be right this time!

---
August 16, 2018: 
LUNCHTIME
Thanks again to all of you who are feeding our workers and keeping them happy! The new tiles are going in the bathrooms. This will be a huge SLOW job!

---
August 13, 2018: 
PICK A SEAT
Carpets going in on the stage and it's gorgeous. The guys are putting in all the heat ducts in the balcony as well as adding bags that will hold all the spotlights. THE CHAIRS ARE DONE! All the chairs are in and they are not all the same size. Be ready to pick your seat or pick a different one each week and get to know different people!
---
August 12, 2018: 
EVERY DAY
Every day things change. It's mind-blowing!
---
August 11, 2018: 
WORK DAY
Great workday. The stage is getting cleaned off for carpet, the stage is now fully plywood, rolls of carpet are everywhere and paint is going on the balcony! The baptistry is hiding under the floor in the stage and there are many cut out things in the floor with all the electrical. I'm amazed!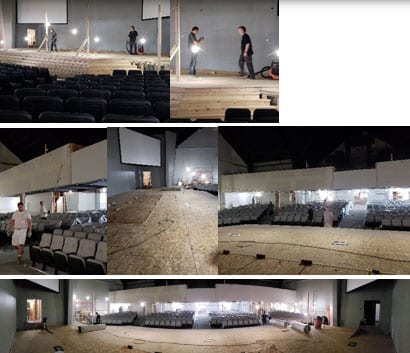 ---
August 9, 2018

: 

HAVE A SEAT!
The chairs are still going in, Mr. Brown is one the job now and we are sorting box after box of school books getting ready for the new school year!

---
August 8, 2018: 
BROTHERS!
Brothers – The Bible records some bitter rivalries amongst brothers even to the point of death and selling a brother into slavery. Other siblings were loyal friends. Out of 12 disciples, 2 sets of them were brothers. At one point, some of Jesus own brothers came to take charge of him, saying 'he is out of his mind.' Two of them later became leaders of the early church and authors of New Testament books (James & Jude).
Brothers-they can get into trouble together or serve together. Randy is blessed to have so many great men working beside him. He would not have survived without guys like Scooter and Tom and so many more…not just in labor but friendship. He is also blessed to have blood brothers here working alongside him. That's pretty cool. A major shout out to the baby bro who has taken such a MASSIVE burden from him by working with this heating system and spending all his days off here seeing it through to the end! He truly has carried that burden! Thanks, Mike!

---
August 7, 2018: 
THE END IS NEAR!
We finally see an end to all this madness! All the heating is done in the chapel and all we have left is some small shoots to the classrooms which they are working on. The carpet is going in the offices. The floors are going in daycare wing…and we still need painting done. But I have no clue what Dave and Edwin are doing. Just saying!

---
August 3, 2018: 
HUGE DAY!
Today was a huge, amazing day. The power in 3rd phase is completely off life support. It is a living, breathing thing all on its own… The power is all complete…and we didn't have to use the defibrillator on Tom once!!!!
---
August 2. 2018:

 

GORGEOUS!
I can NOT believe we are in August. This has been the longest and quickest summer all at the same time! This week we had some newbies come paint! So glad to have someone that knows how to use a paint sprayer. The chairs are being installed. They are using some of our boys to help! The screens went in AND the projectors actually turned on! Good going, Tom!

---
July 25, 2018: DRY BONES
Church meeting on Wednesday night, Randy talked about our new building like the story of the valley of dry bones. That old metal structure was a valley of dry bones for a long time and God is now breathing life into this building and it's alive. Something only God could do.
All walls in the sanctuary are now painted. Carpet in 2 of the classrooms. We did have some paint color issues that made me want to do something stupid, but we survived it and just re-cut in and it is now done! We got all the big ductwork up top and got permission to drywall the sound booth and balcony. 
Another crew got all the water pipe run, water lines are done for all the faucets. We are moving right along.
Did I mention how hard we prayed as they hoisted those extremely heavy air handlers up on the balcony? Oh, did we pray! Floors are done in the sanctuary except for the carpet which comes after the chairs…and I can NOT even keep up with the details at alllllll!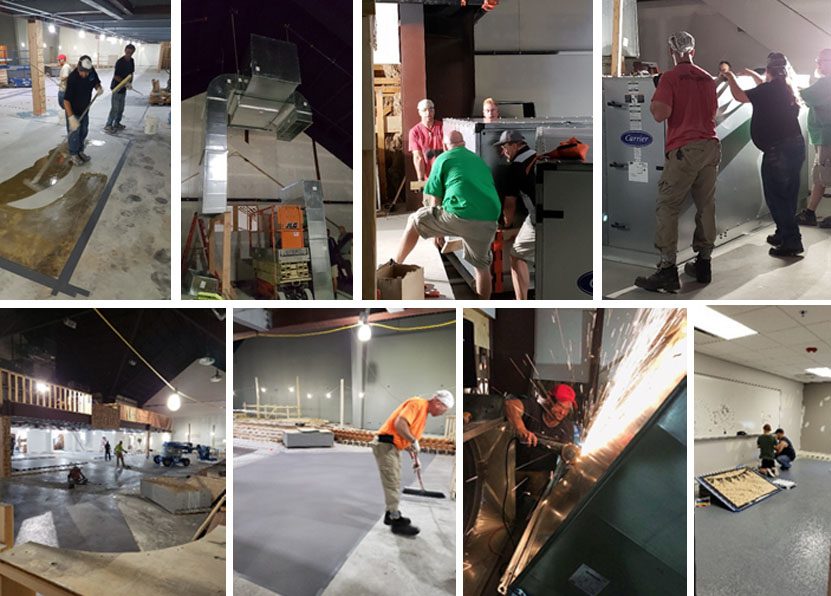 Did I mention we have 1 faithful soul who has been pulling weeds all month to beautify our landscaping! What a job?!?! You pull weeds and its beautiful…until the next rain or by the time you are done doing the front the back needs it all over again. Somehow this must be the worst job ever but makes the most beautiful results. Sounds like ministry to me! And how about those cutting grass, weed eating, and cleaning up garbage??? Thank you Beirlys, Johnsons and a shout out to Donnie who cleans up garbage every Sunday when we are pulling in for church!

---
July 23, 2018: 
ALL HANDS ON DECK
So the carpet is coming in this week for 3rd phase classrooms but the painting is not done. All-hands-on-deck yet again.  We did finish all the painting in the 1st and 2nd phase. Now are just trying to put everything back together. Sunday school is back in order and Wednesday night. Everybody has been so helpful and flexible.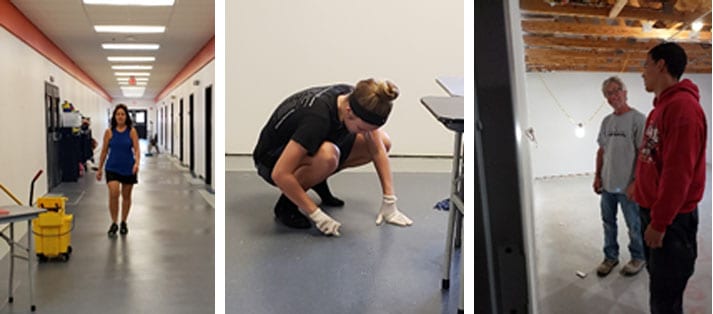 So we are a little panicked because the chairs come next week. That means everything in the chapel has to be done. The guys have been working on the carpentry on the balcony and putting in the railings and finishing up the sound booth. It all must be drywalled and painted this week because the big lift cannot be in the sanctuary after the chairs are in there. It should be finishing up the painting in their also this week. Anyone that's not doing those things is still putting the heating in the ceiling. We had to remind ourselves that we save $500,000 by doing this ourselves. Yes, it is worth it even if we don't make it in by the beginning of school.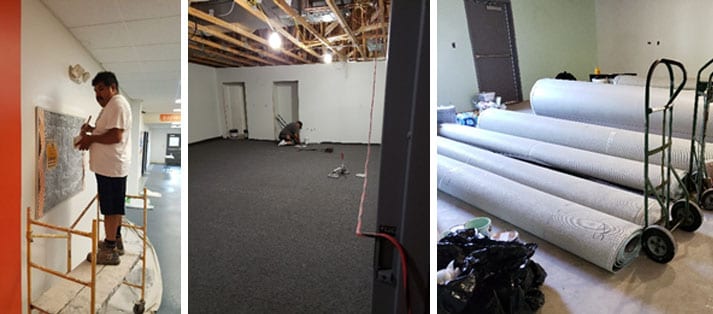 ---
July 19, 2018: BOOKS & BUILDING
So some of the office furniture we purchased came in a million and a half parts. It took teams of people and almost 2 weeks to put together and then of course one was damaged and had to be unscrewed…sorry, Clark's that you drew the short straw! Although appreciated! Thanks also to the manly men who moved all the boxes…UPS dropped at the curve and took off! The girls also got all the school curriculum moved to their new home which is more secure and OUT OF THE HORDER ROOM! Yeehaa! So happy to have that done and just in time to order more!!

A shout out to Moriah and her cohorts who put together 3 of these pieces of furniture AFTER Mo messed up her thumb while moving furniture here and being put in a splint!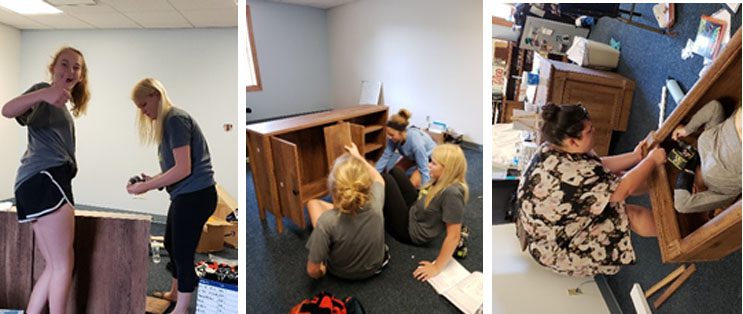 ---
July 19, 2018: LOCKERS & LIGHTS
We had a good crew of the young adults at night again. They installed all the lockers for us. It was a lot bigger job and way more time consuming than I ever dreamed it would be. So grateful for them!

Com ed contacted us. They have a program going on that could save us thousands of dollars. It would cost us $14,000 and they would change out all the lights to replace them with LED lights. Would be over $50,000 to change out the lights without them. 70% saved on the electric bill. They are looking at replacing our chiller too. Waiting on a quote. They may replace the old building for free too!
PRAYER POINT: We all get frustrated and anxious at times because of the duties and expectations on our lives.  We hurry and rush to get things done and we spin our wheels and we waste time and energy.  It affects all of us, no matter what stage of life we are in.  Whether you are a student, teacher, parent, grandparent, businessman or woman and even those who are in the full-time ministry of our Lord.  Trust God with your minds fixed on Him who gives us His peace.
"Do not be anxious for anything, but in everything, by prayer and petition, with thanksgiving, present your requests to God.  And the peace of God, which transcends all understanding will guard your hearts and minds in Christ Jesus."  (Phil 4: 6, 7)
---
July 18, 2018: 
OUT OF THE WOODWORK?
WOW, people just keep showing up. Jerry Brown showed up just in time to put his electrical skills to work on the floor scrubber and Matichaks went to work on painting and floorboards. Mr. Jim showed and because he was a man, he got put on floorboards! LOL! Thankful for the faithful like Brenda who was my personal angel! So many people…and to those faithful who are praying. THANK YOU! Couldn't…wouldn't…don't want to survive this calling without you!
Even as Christians, we find ourselves discouraged at times in our lives.  We struggle with the problems and heartaches that come at us in life. The Bible urges us to encourage one another.   At Family of Faith Church and Academy, our fellowship of believers needs encouragement also.  Pray how we can encourage our pastors, teachers, students, fellow brothers and sisters in the Lord and workers in Phase 3 in tangible ways.  Encourage one another with a kind word, an affirmation of a job well done or a helping hand to help our brothers and sisters in the Lord.
"And let us consider how we may spur one another on toward love and good deeds. Let us not give up meeting together, as some are in the habit of doing, but let us encourage one another – and all the more as you see the Day approaching"  (Hebrews 10: 24-25)
---
July 17, 2018: ON OUR HANDS AND KNEES
It is taken a long week, a lot of blue, A couple men and Steve Schmeltzer to see it through to the end. All week these boys got on their hands and knees and put up that floor base molding thing. Steve started the job because he got drafted on Saturday and he ended the job. Great perseverance. Just don't tell him that we're about to do the sanctuary also. Let him have a little break 1st.

The men started tearing out the old front doors. They were just a place filler for the new ones. We are so excited to have the new front doors. They look so great. And when you walk through the foyer there's so much sunlight that comes in that it's amazing. The man that built them for us really liked the way it looked like there is a cross in the window. When he did it he was hoping we like that and we do.

---
July 16, 2018:
ARE WE DONE YET?
Every day I ask Scooter, "ARE WE DONE YET??" and every day I get something like "not yet" or "we're close". Today he didn't even answer me. He just smiled and kept walking like he didn't hear me. I honestly get choked up thinking of the day when I ask "Scooter…are we done yet" and he can reply with a deep, long sigh, "YESSSSS" if Y'all are there that day, you will see me cry!
This morning we pulled in and the guys with the new doors and the lumber guys were fighting over who would drop their shipments under the canopy first. I looked at Randy and said "Hate to be you. Have a good day Honey!" and off I went!   The floors in the chapel are drying and I love them!!! Our painter will be back tomorrow, BUT the best part of today was 2 crews working on the floor moldings, 3 crews painting that's NOT including our "professional" painters who left us for their real jobs, numerous teens helping out, 1 poor kid moving all the heavy stuff! We are rocking and rolling!

---
July 14, 2018: 
ROLLING RIGHT ALONG
We are going through the rollers! I got a very nice surprise and our painters came in and primed all the rooms in the back hall and dear Jeff will be pulling evenings for his second week working through those rooms 1 at a time. Last week he did all the cutting in for us…that was positively amazing to come in and just have to roll. Ronda and Kristen have been so faithful to this craziness and they just keep rolling! Its been hard fitting in painting in our schedules but its been fun having my sisters working with me! Got the carpets cleaned too…SOOOO NICE and smells good!

---
July 13, 2018: 
Bahaha NICE TRY BOYS
So our painters who tried to ditch us for a real job…they got to Chicago and that job wasn't ready for them. Bahahaha so they are back with us! Nice try boys. God is so good! AND they got Judy Anderson's lunch as a bonus!
---
July 12, 2018: 
SHOUT OUT TO OUR YOUNG ADULTS!
WOW, ya'll. The young adults SHOWED UP tonight! Those huge, massive, very heavy air handlers were lifted up onto the balcony tonight. It took an army and they did it. This was no easy task! Also, Jeff was back painting and Ken our engineer was back working with Mike and Scooter getting the final plan together to finish the ductwork.

---
July 11, 2018: 
COLOR MY WORLD!
One hall painted today in the 1st phase and started down the back hall. Jeff did a great job in the office and finishing tonight. Gonzolo finished mudding some holes for us in the office! Grateful for that! Jacquie got the new children's church room and Kindergarten rooms painted today! They are gorgeous. She also got the bathroom and closets done too!
The floor guys have been filling the sanctuary with a haze that is hard to see through. They have been grinding that ole messy concrete floor that we knew needed some big help!
The guys came to lunch and decided they wanted to buy shirts that say, "WILL WORK FOR FOOD". Can't tell you how much the boys look forward to their lunchtime!
---
July 10, 2018: 
PM WORK CREWS!
We now have a crew of guys volunteering their time at night. After they leave work they come to help! WOW! We had a meeting tonight and went back late to see how they did. The first thing I saw took blew me away. I was and am still in complete amazement-duck bumps as Miss Faith would say- I WATCHED MY HUSBAND BEND OVER, PICK UP TO CORD ATTACHED TO THE LIGHTS IN THE SANCTUARY, and PLUG IT into THE WALL! Did you get that? NO MORE long extension cords run throughout the whole building into the 2nd phase…He plugged in into the WALL OUTLET in the sanctuary! I totally feel like we have arrived.
I also admired the new storage closet under the stairwell. Just sayn'! And the PM work crew got a lot of the ducting medal heating pieces up to the balcony. Glad to see that.

---
July 9, 2018: 
IN AWE!
The drywall is completely done in the sanctuary except up on top of the balcony, a second coat of paint is on the front walls and the sides have been started and the boys completely, COMPLETELY cleaned out the sanctuary. The fire suppression slow pokes are done in there as well.
I walked in and for the very first time, I really saw… not sure I can describe what I saw…it's kinda what I felt and what I saw and what I REALLY SAW all mixed together. I felt like I was in the Holies of Holies. The inner courts. It took my breath away.

Then I walked up the NEW staircase. WOW, totes cool! Up top I found Mike and Scooter working on the sound booth, all the drywall is done except some mudding!

---
July 8, 2018: THERE ARE GIANTS IN THE LAND!
SO the floors are done and we still have a mess. I would be a liar if I said we weren't stressed. Now this whole 1st and 2nd phases need paint as well as keep working in the 3rd phase. We just want to get this done and get back to work and get ready for classes and church on Sunday…and to top it off our painter left for vacation this week. This about brought me to tears. Until. Sunday at church Mr. Jeff told Randy he wants to come to paint this week! Seriously! Then Monday morning Mr. Dave came to paint and Tuesday Mr. Roberto and our beloved Jacquie showed up to paint-both Mike and Dave union painters and Jacquie…she's just faithful, tall, quick and good at it. Jacquie is working in 3rd phase since carpet is coming next week…yes, I said it…carpet!
SO there are giants in the land. We have had 3 very, VERY long weeks. We feel so guilty for feeling so stressed, but the enemy has attacked at every corner. We feel as if we have been kicked in the gut over and over and over. The Devil doesn't play fair and he hasn't let up at all. We knew there were giants in the land but maybe we underestimated their size….but we are reminded that He that is in us is greater and we carry the victor's sword! RUA! Please continue to pray for us!
---
July 6, 2018: 
CREATIVE SIDE
We are excited to catch the vision that our Lead Artist has for the cross in the sanctuary! He started laying it out with tape to see where it will be. The back wall has the first coat of paint on it and I LOVE it!!! Good going decorating team!
---
July 3, 2018: 
FINAL COATS
The floors are getting the final coat. We are all ready to get them done, get painting and get our lives back in order. I can NOT even think straight in the mess anymore.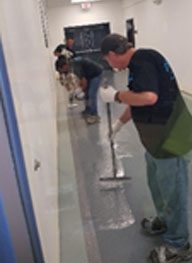 ---
July 2, 2018: GORGEOUS!
This floor is so gorgeous. The owner of the company has been working on it while working on Il State University's floor at the same time. He got it sanded and it was gorgeous! This is the progression from the beginning until July 9th. He toned down some of the colors so it isn't so "loud".

---
June 30, 2018: 
SATURDAY-ALL HANDS ON DECK!
Crunch time is still on, but we are not gonna make it before Sunday. The decision was made to cover the floors then Monday and Tuesday we will finish the floors. It works. Our church has been so flexible and understanding as we worship in a mess!

Had to add a couple pics of the trashed sanctuary we are worshipping in right now…need to remember where we come from I guess!!

---
June 29, 2018: FAMILIES OF FAITH HIT THEIR KNEES!
The rush is on to try and finish the floors before Sunday for church. We have to get everything cleared out for the first coat of varnish today and 2nd coat Sat to be able to have church Sunday. We called for the army and they came! Thanks to everyone who came out and helped and those who provided enough fish and loaves (and PB&J for Tom D) to feed everyone!!

---
June 27, 2018: 
STAIRS!
The stairs are started going up to the balcony. The floors are still moving along. The gym floor guy…well he doesn't work for us anymore. Long story but the owner of the company made it very clear he will take care of our floor himself. Tom is still working on electrically things. The boys are still slaving away on plumbing things none of which I know anything about, but I see progress and that's what matters!

The stairs are being built up to the loft so no more ladders and no more lift! And that hole in the roof of the balcony??? It is for the wiring for the sound booth that is up in the balcony. That hole has a story of its own. It took a miracle to get that done finally because of numerous mishaps renting the machine to cut that hole! The last 2 weeks nothing really has gone easy, but we persevere.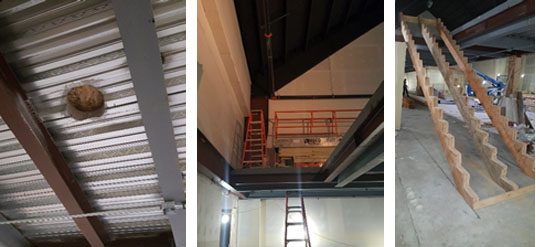 ---
June 26, 2018: MORE CRAZINESS
Sooo the daycare has moved into the makeshift preschool the camp room in the chapel. They had to move all the right toys and make sure it was all in the right order. The camp kids have officially moved to the other building on Fryer for 2 weeks. There is stuff packed in the locker rooms, pavilion, and now the mechanical room. We have no clue where anything is BUT we see an end in sight!!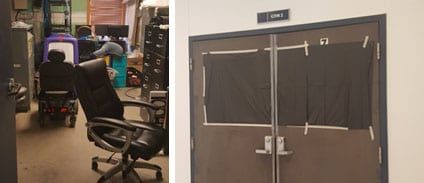 Now, this picture here…may not look like much to the unknowing eye…but it caused me to be pretty misty-eyed! More than I would like to admit! This is our "baptistry" I couldn't help walk around it and think, "who's gonna be first" Is it you? Then my mind wandered to many moons ago when we prayer walked that very spot. I can close my eyes and remember that very moment standing under the steel frame in the weeds and rocks feeling the gentle breeze blowing on us. I remember burying a pile of rocks with our friends and family names on them and laying a Never-the-less rock right on top.

---
June 25, 2018: 
GETTING DONE
The gym floors in the main gym are getting a facelift this week. The floor guy is here to strip and redo the floors… yes, all while the classrooms and halls are getting redone. It really is crazy and frustrating and amazing and glorious-all at the same time. We are raw and stressed and excited and hopeful all at the same time.

---
June 22, 2018: 
WELCOME BACK
Looking for a drywall guy Randy calls Gonzolo. He did the drywall before for us and was great, but he hurt his back. Hoping he knew someone he told Randy he is better and can handle the finishing!!! Welcome back Gonzolo and get to work!
---
June 21, 2018: 
UGH
The drywall guy who is about half done, can't work for us anymore. Going back "to work" whatever that means. Looking for a new drywaller.
The stripes on the floors in phase 1 and 2 are getting the last, final and smelliest coat. Next Monday they start with the main floors.
---
June 20, 2018: 
THE DAY WE HAVE WAITED FOR
The day we long awaited. The concrete came! We were all curious how they were going to pump 100s of gallons of concrete up to our balcony. Big trucks. Big pipes. Big hoses. Lots of men raking quickly! It was cool. 
Al Kuypers Concrete did great. Thank you for partnering with us in our project!
Tom D was working on the electric on the ceiling while the concrete was going in. You can thank him for the "aerial pics"  And because this morning wasn't crazy enough the drywall we ordered happened to show up at the same time. Yeehaa.

---
June 19, 2018: 
PERSEVERING
Drywall still going up and getting mud, floors are still being worked on, ducting will never end…

---
June 18, 2018: 
TIME CRUNCH
Meco steel was back to finish the balcony base and add in the wire for the floor to prep it for concrete. They were amazing and diligent getting this done for us while in their busiest time of the season, but we couldn't pour concrete without their help!
1 pm Inspection passed with flying colors. Bring on the concrete! 

---
June 12, 2018: 
JUST ANOTHER DAY AT THE OFFICE

 The ducting is a maze like never seen on this planet, but they are kicking it out one big piece of metal ducting at a time. The office is trashed getting ready for the new floors, We have sooooo much primer waiting for a wall…but in it all…Forman Dave is on the job! God help us all!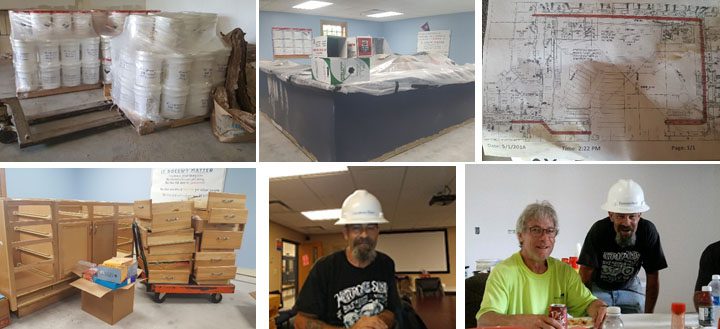 ---
June 11, 2018: 
OVER BUDGET
It's been a very long day. Our poor floor man has to work around so many obstacles. I don't envy him at all. They are done sanding and now patching all the cracks in the floor getting ready to lay the borders on the floor and then next week WED-SAT he will finish the floors. If you are reading this it's going to be a mess and inconvenience but that is what it takes to look beautiful!
Fire Suppression guys were here today and the village has more demands than they anticipated… $25,000 more in demands.
Also found out today the lighting is going to be more than anticipated also.
AND we forgot to put in the railings in the chapel in the budget. They go all the way across the front of the chapel, up the stairs and across the top on the balcony. At this point, it looks like a total of $80,000 over budget but it looks like we will be planning a fundraiser to try and finish this project. Watch for more details.
---
June 9, 2018: 
MUD & TAPE
Drywall finishers are coming today to start mudding and taping. Woot Woot!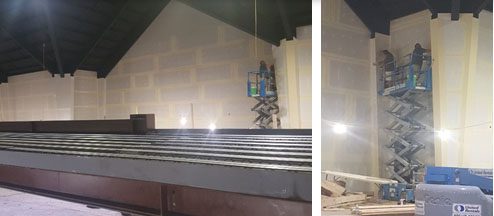 So last week sometime I was walking through the building taking some pics and came across Scooter on a latter with his head up in the ceiling talking… I asked him if he was talking to himself he told me he wasn't but he was talking to Jack who was up in the ceiling in this box thing. Scooter said "I call him my Jack-in-the-box." Bahahahah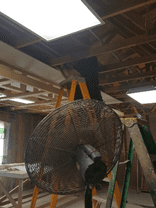 ---
June 8, 2018: 
MOVING RIGHT ALONG!
Continuing the floors in 1st and 2nd phases. Lots of grinding and sanding. They started the offices which is obnoxious to us but necessary!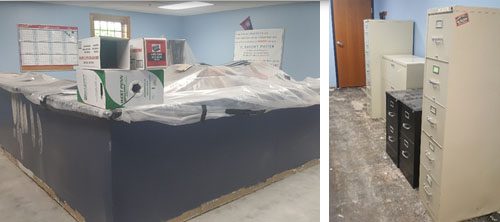 Meco steal is done with the steel beams and finishing putting in the decking/floor of it so we can prepare to pour the concrete.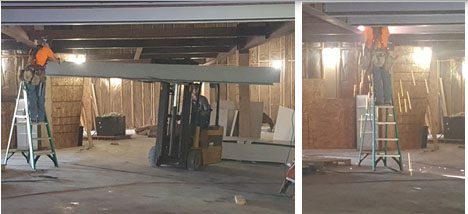 The drywall guys are rocking! Check out the pics! WOW! And They FINISHED ALMOST ALL of the drywall IN THE SANCTUARY-all they can do at least until the balcony is done. They finished up wrapping the metal beams for the drywall also. Those look totally cool! Wow. Can you just sit there and absorb that with me?? Seriously?

---
June 7, 2018: 
FALSE ALARM…AGAIN!
The day started off with a very early morning call from the fire department AGAIN. The alarm is sounding. We assured them that we are working on the building and it was an accident.
Brother Jerry from New York called today to check in. He has been seeing things online and is excited about what's happening. He can't wait to come and see for himself!
Fire suppression people coming next week to get started. Last real big expense. Please pray as the details of everything going on. It is mind-blowing. Keep praying for wisdom and God's blessing everywhere we take a step.

---
June 4, 2018: ONE STEP CLOSER!
The inspection is complete, and we passed…thanks to our amazing, impeccable, perfectionist of an electrician! Good going Tom and thanks for all you do! What does this mean??? Ohhhh, let me tell you or just show you…DRYWALL in our sanctuary. There is goes. And another special thank you to Tim and his son too. Our drywallers said they couldn't get to the job right away. It would take them a few weeks… That didn't work for us. Tim stepped up and said they can do it. A lot of heavy labor! WOW!
AND if that isn't exciting enough  –  the guys are here from Meco assembling the balcony!
AANNDD they are rocking and rolling on the floors. Thanks again for your patience in this. I probably have been the least patient person through it all. Ugh. But it is working. We are on top of each other trying to get everything done BUT it IS working! It is day by day…just like the manna in the wilderness! His mercies are new every day.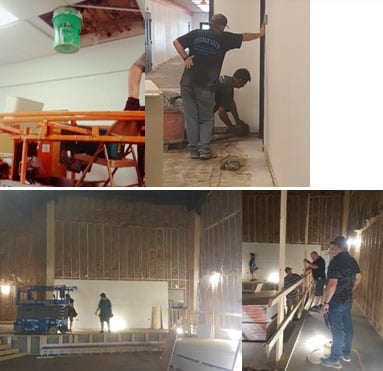 ---
June 1, 2018: 
AS PROMISED – THE BALCONY IS HERE
It amazes me what teamwork can do! That's some heavy stuff! No blood either!

---
May 30, 2018: PRE-INSPECTION INSPECTION
Joe cook was gracious to do a pre-inspection for us. He used his expertise to give us his suggestions before the inspection on Friday. In his opinion, it all looked good! Pray for that inspection on Monday. If it all passes, we will begin to put drywall up in the chapel!!! And the steel for the balcony is coming Friday at 8 am. How exciting!
---
May 25, 2018: THE BALCONY
We received out stamped plans/blueprints back from Meco. They have been such a huge blessing in so many ways. They were able to have an architect review and stamp our plans for the balcony. This part of the job has been the most stressful to get done!
We got our stamped plans turned into the village. Pay for speedy comeback and approval.
Still working on ductwork, plumbing, and dry walkers are back finishing the drywall in rooms.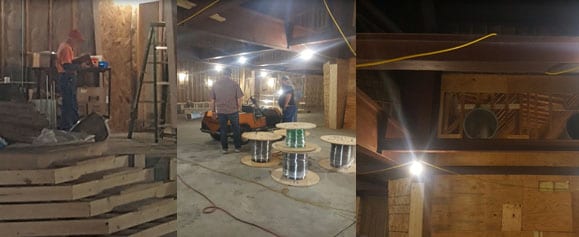 ---
May 24, 2018: OPEN HOUSE
Open house for RCA. Such sweet, new friends. It was great to have a night set aside just for them, although a little crazy in the midst of the floors being torn up and working around the mess. Vision is needed…as is caffeine. We are exhausted! But it feels so good!
PRAYER POINT: Encouragement:  "Therefore encourage one another and build each other up, just as in fact you are doing." 1 Thess. 5:11
We are living in stressful times and our church family and especially our Pastors, their spouses and the workers in the new sanctuary all need encouragement. A timely word, phone call or prayer can give them a boost in their walk with Jesus.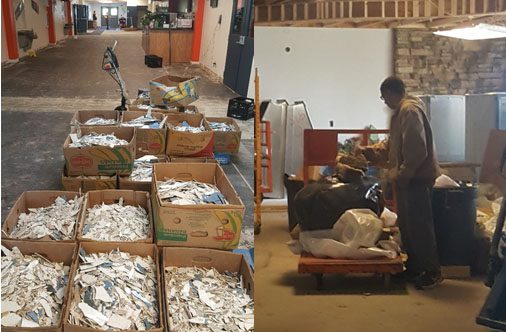 ---
May 23, 2018: WORK NIGHT
Can't even begin to describe this day. It was long and tedious and a mad dash! This beast of a machine showed up. We had no clue what to expect. Randy hopped on it and started tearing up floors. He only got off 2ce to be able to charge the battery. 10 hours later he actually finished all the floors and we were able to return the machine and save a whole day's fee…BUT ONLY BECAUSE OF A GREAT GROUP OF HELPERS..from ages 5 to 95! So many people with such great attitudes and worked hard!
 We had a work night planned, but Randy was cruising, and we were having trouble clearing the rooms out fast enough to keep him chewing up tiles. We called around and people started pouring in. We cleared out all the halls and rooms, packed all the stuff in the locker rooms, Randy chewed up all the tiles, then we swept and hauled out the pounds of tiles, cleaned out rooms and put chairs and desks/tables back in so we could have church on Sunday. It was crazy but what a great group of people, kids, and teens helping!
*Special thanks to the Bingham boys for unhooking all the computers, moving them, re-hooking them and making sure they all worked again! Can't even imagine what we would have done…can't even imagine!
**Special, SPECIAL thanks to poor, poor Mr. George. We apparently moved (to the recesses of the girl's locker room) the filing cabinet that holds all of the deposit stuff that he needs on Mondays to make the weekly deposit…things like the stamp for the back of the checks, calculator, deposit slips and books etc. Back to the stone ages and hand signing all the checks. = /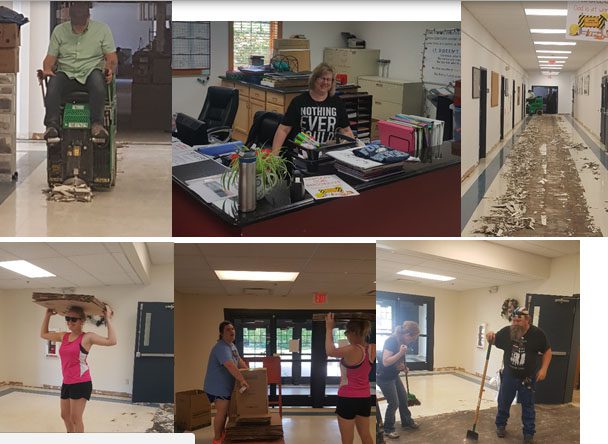 ---
May 22, 2018: HERE COMES THE MESS!
We are getting ready to tear up the floors. Moving everything out of the rooms. We have rented a machine that costs $2500 for 2 days. So we have got to get this done quick and returned!!!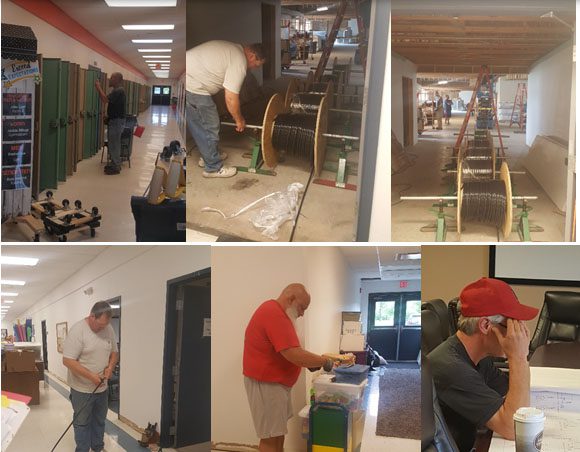 We also have come across 2 friends of Tom D's who are electricians. The one in red actually helped us years ago when we started this project. How cool to have him back on the job again and what a blessing for us to have him use his time off to help! Gotta love this pic of Tom too! He was in the "state" for a while before I even snapped that picture. Was thinking that coffee wasn't big enough that day!
---