We offer men opportunities to fellowship at a bi-monthly prayer breakfast, a small group on Wednesday nights and different events and seminars throughout the year. You don't have to do life alone, you were never meant to. God created every man to exist in community. Our men are just a group of guys striving to become the men God created them to be and encouraging the same in each other.
---
The Vision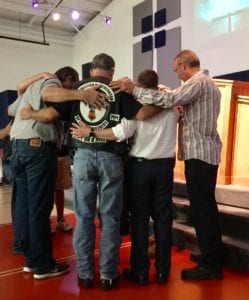 The vision of our Men's Group is to help men CONNECT with God and other men who share in your struggles and your interests; and GROW deeper in your relationship with God as you develop a circle of brothers who are there to fight alongside you through prayer, encouragement and accountability.
We strive to accomplish this through times that we meet together weekly, monthly and at times through One-on-One Discipleship.
Below you will find weekly and monthly meeting times our men get together. We also offer other opportunities throughout the year for our men to fellowship. Contact our office and ask to be added to our e-mail list so you'll know what we're offering and when.
All men are welcome to join us at any one of the times listed below:
Sunday Mornings | 9:15 am | Couple's Sunday School (somtimes we hang with the ladies)
Wednesday Evenings | 6:15 – 7:30 pm | Room 114 Bible Study with Jim Gilmour
Bi-Monthly Prayer Breakfasts | 7am – Noon | 2nd & 4th Saturday each month